Government Facilities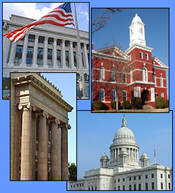 Fridge Solutions and its parent company America's Pride have been servicing the US Government for many years here is a list of just a few

1) US Navy, Pensacola, FL
2) USACA, APG, MD
3) Fort Sheridan, IL
4) US Marine Corps, San Diego, CA
5) US Marine Corps, Huntsville, AL:
6) US Army, Baghdad, Iraq

America's Pride is a member of the DOD E-MALL. Fridge Solutions has Refrigerated and Non-Refrigerated equipment to meet all of your requirements. We have a complete line of equipment to service your Hot Foods, Bakery, Frozen Foods, Beverages, Produce, Dairy, Meats, Deli, Fish, plus Walk-in Coolers and Freezers of all sizes. All you have to do is call one of our Refrigeration Sales Engineers, with an average of 25 years experience, at 800-351-8750 or 508-336-9629.