Liquor & Package Stores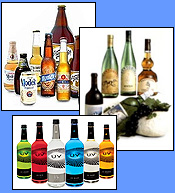 ONE OF THE HIGHEST PROFIT PERCENTAGES OF SALE, IS A SINGLE COLD BEER OR BEVERAGE; NEXT IN PROFIT IS A 6-PACK. You may ask the question, "How labor intensive is stocking these walk-ins?" Not intensive at all when you have purchased a Fridge Solutions Walk-in Glass Door Cooler with self feeding shelving. The shelves are stocked during slow business hours or after closing for the following day's business. This also helps with inventory control. Fridge Solutions Walk-in GLASS DOOR Coolers come in ALL lengths, widths and heights to fit any space. If you do not have room for a cooler side door, we can supply a GLASS entry door next to your self service beverage doors, with rollaway shelving. Fridge Solutions has Walk-in Coolers and Walk-in Freezers up to 6' X 6' with drop-in Penthouse Refrigerating Systems that require NO PLUMBING; some of these Penthouse units are 120 Volts. Also look at our large line of reach-in glass and solid door coolers and freezers at www.fridgesolutions.com website. "DON'T CALL US FIRST, BUT DEFINITLY CALL US LAST"
















Solid Swing Door Reach-In Coolers
Self-contained multi-use holding reach-in solid door cooler. Optional interior lighting. Optional interior lighting: 1 & 2 door = 1 light, 3 door = 2 lights. Standard color: White; available in other finishes. All coolers are standard top mount.


Pass-Thru & End Aisle Coolers
These specialty coolers typically target impulse purchases at both point of sale and in the general sales area. Coolers range from end aisle merchandisers to island type to coolers that stand or hang from wall type or gondola shelving in the general sales area. Special sizes available!



Specialty Display Case
Refrigerated and mobile! Ideal for convenience stores. Self-Contained refrigeration, birch front exterior, clear plexiglass insert in ends, front plexiglass product stop and 1/2 HP compressor.



Competitor Modular Cooler Coils
Our most popular cooler-coil line, the Competitor, coil units are ideally suited for use in all commercial walk-in coolers, freezers and similar applications. Usable storage space is maximized by the compact, slim profile design.