<%@ page language="java" contentType="text/html" %> <%@ page import="beans.bProducts" %>
Back to Reach-In Coolers & Freezers Index
Glass Door Beverage Coolers
---
Pass-Thru & End Aisle Coolers
The specialty coolers below typically target impulse purchases at both point of sale and in the general sales area. Coolers range from end aisle merchandisers to island type to coolers that stand or hang from wall type or gondola shelving in the general sales area (Special sizes available).
Click on model numbers to place order.
Model #
# of
Doors
Cubic
Ft.
Length
Depth
Height
Shelves/
Door
HP
Voltage
Weight
Price
RSL33GCPTL
4
15.5
40"
24"
60"
4
1/3
115
310 lbs
RSL40GCPT
4
40
52"
29.5"
74"
5
1/3
115
400 lbs
RSL75GCPT
6
75
81"
31"
78"
5
1/2
115
725 lbs
EAM3CL
3
15
31"
31"
56"
4
1/3
115
320 lbs
RSL/EAM...
Other Sizes Available Upon Request
Call for Pricing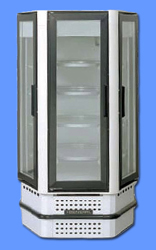 Features
Self-contained multi-use holding reach-in cooler. Horizontal interior lighting. Standard color: White. See our accessories page for accessories, color up-charges, finishes, etc. Packout based on optional divided wire shelves. Standard flat wire shelves will hold more. Engineered refrigeration system for optimum performance vs. energy consumption. EAM3CL Model shown at left.

EAM3CL: A non-traditional style of cooler with 3 swing glass doors that typically fits at the checkout counter to service the main aisle and two adjacent checkout lanes. It is also well suited to the end of an aisle servicing two aisles and the main aisle. Shelves are adjustable in height. The shelves are situated on rollers so that they manually rotate to service the customer. At 55" high and on wheels, this unit can be transported to various locations in the store while not obstructing the view of customers and store personnel. The top can also be used to merchandize confectionary products. Proven impulse and point of sale purchases can quickly pay the investment of the cooler and further the efforts, sales, and revenues of the beverage company and the retailer.

RSL33GCPTL: This low profile pass-through double glass sliding door cooler acts as an island merchandiser which can be placed at the end of an aisle or at the checkout counter to service two adjacent checkout lanes. The RSL33GC version has only double glass sliding doors on one side where one sided access is preferred.
Click here for a list of accessories
Terms, Conditions and Warranty Information

Don't see what you need? Many other sizes are available upon request. Give us a call!

Cabinet & Finishes:
GCPT Models: Standard - White pre-painted galvanized metal in and out. Interior floor galvanized. 2-1/4" thick foamed in place high density Polyurethane foamed cabinet, no wood, with R-Value of 16 throughout. Top mounted cases complete with 6" adjustable legs. Optional casters.
EAM3CL Model: Standard - White pre-painted galvanized metal exterior and injected molded polymer interior. Foamed in place high density polyurethane foamed cabinet, no wood. Bottom mounted condensing unit on wheels.
Finish Options - Embossed white, Stainless (flat or embossed), Aluminum (flat or embossed), Standard and Custom colors.

Doors & Gaskets:
GCPT Models: Reinforced high strength Polymer Composite sliding door frame and track with wiper. Spring loaded, positive closing design on rollers. Integrated full length handle. Optional keyed jewelers door lock, pass-through, and glass ends.
EAM3CL Model: 3 - Reinforced high strength polymer composite or metal cooler door frame & handle with thermal pane glass, hold open feature, spring loaded hinges, complete with easily removable closed cell magnetic self adjusting gasket.

Lights:
GCPT Models: Standard fluorescent fixtures. Optional lighted sign.
EAM3CL Model: Standard dual vertical fluorescent fixtures

Round Rotating Shelves:
EAM3CL Model: Adjustable manual rotating galvanized shelves for easy access and turnover or product. High capacity storage in a small footprint and virtually 180 degrees of facings merchandised.

Controls & Monitors:
Standard Electronic Temperature Control with Digital readout. Options: Chart Recorder, Power light and Switch, Defrost indicator, Dial and Digital thermometers, Temperature alarm with Digital readout and dialer output.

Refrigeration System:
Self contained or Remote systems. Forced air evaporator or optional gravity coil on coolers only. Trouble free and accurate Capillary tube system or optional TX valve system depending on model. Only environmentally friendly refrigerants used. Systems are designed for use in environments, 75 Deg. F and 55 percent RH. Systems designed for holding pre-chilled product. All self-contained systems include energy efficient automatic hot gas condensate disposal. 1/3 and 1/2 Hp units 115/1/60 with cord.