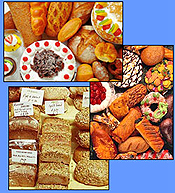 Bakery Display Cases
If you're looking for refrigerated and/or non-refrigerated display cases for bakery products: breads, pizza, cakes, cookies, pastries and sandwiches, you have come to the right place. Fridge Solutions has all these display cases, in all sizes (36" to 12') and more!
If you're looking for a display case to have near your register for impulse purchases, look at our Models OMB, OAM and OMD. Our display cases will keep your bakery goods looking as fresh as when you made them. Our pastry refrigerated display cases come with high humidity gravity coils to insure freshness.