Medical & Pharmaceutical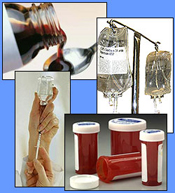 Temperature is Critical for your medical supplies! That is why we at Fridge Solutions have specifically developed for your needs, an Alarm System that has a Digital read out and can send a remote alarm to an assigned person, as well as sounding internal alarms.

We have reach-in coolers and freezers with glass doors, solid doors, in any color, or in stainless steel. Look at our complete line at www.fridgesolutions.com. Temperature is critical, therefore it is important you choose a company you can count on. Fridge Solutions is the 4th largest company in North America Manufacturing Commercial Refrigeration Equipment and walk-in Coolers and Freezers. We have been in doing business since 1947. Fridge Solutions has walk-in Coolers and Freezers in all sizes and shapes to meet all your needs. Please call one of our sales engineers They are waiting to serve you!