<%@ page language="java" contentType="text/html" %> <%@ page import="beans.bProducts" %>
Back to Reach-In Coolers & Freezers Index
Solid Swing Door Reach-In Coolers & Freezers
Under Counter & Back Bars
---
Solid Door Reach-In Coolers
Click on model numbers to place order.
Model #
# of
Doors
Cubic
Ft.
Length
Depth
Height
Shelves/
Door
HP
Voltage
Weight
Price
RSW25SC
1
25
29"
36"
82"
3
1/3
115
395 lbs
RSW40SC
2
40
54"
32"
81"
3
1/3
115
595 lbs
RSW50SC
2
50
55"
36"
82"
3
1/3
115
745 lbs
RSW75SC
3
75
81"
36"
82"
3
1/2
115
980 lbs
RSW...
Other Sizes Available Upon Request
Call for Pricing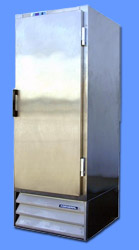 Features
Self-contained multi-use holding reach-in solid door cooler. Optional interior lighting. Optional interior lighting: 1 & 2 door = 1 light, 3 door = 2 lights. Standard color: White; available in other finishes. See our accessories page for accessories, color up-charges, finishes, etc.

All coolers are standard top mount. For optional bottom mount, deduct 4" in height. Packout based on optional divided wire shelves. Standard flat wire shelves will hold more. Engineered refrigeration system for optimum performance vs. energy consumption. Model RSW25SC shown at left in stainless steel.
Click here for a list of accessories
Terms, Conditions and Warranty Information

Don't see what you need? Many other sizes are available upon request. Give us a call!


Cabinet & Finishes:
Standard: White pre-painted galvanized metal in and out. Interior floor galvanized. 2-1/4" thick foamed in place high density Polyurethane foamed cabinet, no wood, with R-Value of 16 throughout. Top mounted cases complete with 6" adjustable legs. Optional casters. Finish Options: Unit comes in your choice of finishes, stainless steel, aluminum or galvanized steel with an acrylic baked enamel painted finish in your choice of colors.

Doors & Gaskets:
Metal, foamed in place polyurethane insulation overlap style doors with spring loaded hinges with hold open feature, complete with easily removable closed cell magnetic self-adjusting gasket. optional half-doors and keyed door locks, pass-through and glass ends.

Lights:
Optional door activated vapor proof tungsten or fluorescent light fixture. Optional lighted sign.

Shelves:
Standard with 3 rows of adjustable, (1/2" increments), flat epoxy coated white wire shelves for durability and cleanliness. Optional divided wire shelves for beverages. Optional adjustable galvanized or stainless steel tray slides.

Controls & Monitors:
Standard Electronic Temperature Control with Digital readout. Options: Chart Recorder, Power light and Switch, Defrost indicator, Dial and Digital thermometers, Temperature alarm with Digital readout and dialer output.

Refrigeration System:
Self contained systems. Top or Bottom mounted condensing units at no extra charge. Forced air evaporator or optional gravity coil on coolers only. Trouble free and accurate Capillary tube system or optional TX valve system depending on model. Only environmentally friendly refrigerants used. Systems are designed for use in environments, 75 Deg. F and 55 percent RH. Systems designed for holding pre-chilled/frozen product. All self-contained systems include energy efficient automatic hot gas condensate disposal. 1/3 and 1/2 HP units 115/1/60 with cord.