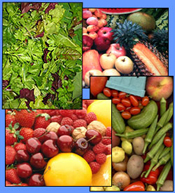 Produce Display Cases
Are you tired of your lettuce going limp? Then it's time you purchased a produce display case from Fridge Solutions! We can supply you with a 3' case to a 12' case with self-contained or remote refrigeration. Any color, any length, and any size produce display cases.

We use high humidity coils to ensure that your produce stays fresh! All fresh fruits and vegetables must be kept at the proper temperature while in transit. Do not allow your product to sit on your receiving dock; immediately put the product into a cooler that is maintaining 45 degrees for produce & fruit temperatures.