Back to
Building Products
Index
Thermawall 5000 Insulated Wall Panel
Allowable Uniform Loads (PSF) For Multiple Span Condition
Skin GA.
Thickness
SPAN [FEET]
DEFL.
5
6
7
8
9
10
11
12
13
14
15
16
17
18
19
20
26/26
GA.
2"
71.1
56.1
45.2
37.1
30.9
25.9
22.0
18.7
16.2
14.0
12.1
10.4
L/180
3"
101.6
81.5
67.0
56.2
47.7
40.8
35.2
30.6
26.9
23.6
20.8
18.6
16.9
Important: Thermal load has not been considered. Consult for fastener patterns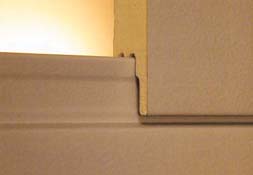 Features
A premium engineered exterior wall system, for horizontal applications. Specially designed to meet today's high performance standards in a wide variety of environments. Features a concealed fastener joint system. A NON CFC polyurethane insulating core, with flat embossed exterior in choice of coating systems.
Please call us for more information or to receive a quote!
Applications - This architectural panel system allows the architect freedom of choice in an aesthetically pleasing engineered exterior wall system. Horizontally applied THERMAWALL 5000 panels use a patented double seal integrated with a pressure equalized joint following the Rain Screen Principle. The nominal 3/8" wide joint provides a distinctive horizontal reveal between panels (optional T-5050 has 1/8" reveal). The optional folded (trimless) panel ends are sealed with a recessed dry gasket at the vertical edges.

Construction - Thermawall 5000 Series Panels are constructed with a NON CFC thermo-setting polyurethane insulation that meets model building code specifications. Structural grade steel facings are precisely roll formed and foam insulation is expanded between the metal sheets in a state-of-the-art continuous line production sequence that is fully computerized to ensure optimum quality and consistency in every panel.

Insulation - Thermawall 5000 Series Panels with foamed polyurethane insulation are offered in thicknesses of 2" & 3", providing insulation values of R-15 to R-23.

Facings - Thermawall 5000 Series Panels have standard 22 gauge facings of stucco embossed galvanized steel to ASTM A653 G-90 designation. Base steel shall be structural quality to minimum Grade A 33,000 PSI, conforming to ASTM A924. Optional panel facings of galvalume, aluminum or stainless steel are available on request in various gauges.

Coating Systems - Coating Systems include "Kynar 500" PVF2 finishes with high performance properties and a 20 year warranty, covering color retention, chalk resistance and film integrity. Silicone modified polyester (SMP), polyester and plasticol finish coatings also offer outstanding performance and extended warranties. Metallics and exotic color coatings are readily available to the designer.

Panel Design - Thermawall 5000 Series Panel utilizes a superior joint design providing concealed fastener anchorage affording connection of both metal skins to the building structure, double caulk seal provision and excellent air infiltration and water penetration test results. Panels are available in a flat embossed exterior with choice of finish. Panel coverage is 36" standard; 24", 30" optional.