Back to
Building Products
Index
Thermawall 2500 Insulated Wall Panel
Allowable Uniform Loads (PSF) For Multiple Span Condition
Skin GA.
Thickness
SPAN [FEET]
DEFL.
5
6
7
8
9
10
11
12
13
14
15
16
17
18
19
20
26/26
GA.
2"
71.1
56.1
45.2
37.1
30.9
25.9
22.0
18.7
16.2
14.0
12.1
10.4
3"
101.6
81.5
67.0
56.2
47.7
40.8
35.2
30.6
26.9
23.6
20.8
18.6
16.9
4"
121.9
98.8
82.2
69.6
59.8
51.9
45.4
40.0
35.5
31.6
28.2
25.2
22.5
19.8
17.9
15.9
L/180
5"
171.7
139.1
116.7
100.4
86.2
74.0
65.4
57.2
51.0
44.6
40.5
36.2
32.6
30.0
26.7
24.5
6"
199.7
163.8
135.6
116.3
99.7
87.9
77.8
67.9
59.8
54.0
48.2
44.1
39.2
36.1
32.7
29.5
Important: Thermal load has not been considered. Consult for fastener patterns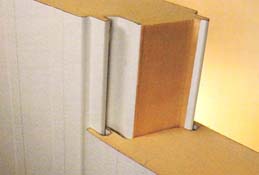 Features
High tech factory insulated panel for interior/exterior use featuring a joint design for hidden fasteners. With a NON CFC foamed-in-place polyurethane insulation core with thermally fused steel facing sheets. Available in a wide range of finishes.
Please call us for more information or to receive a quote!
Applications - Thermawall 2500 Series Panels are ideal for interior walls, ceilings and roofing in cold storage buildings, food processing plants, critical temperature and controlled environment facilities as well as medical / pharmaceutical "sanitary" areas. Industrial applications include warehouses, manufacturing plants, service and utility buildings -- in fact most buildings that can take advantage of a light weight energy efficient pre-engineered composite panel at an attractive cost.

Construction - Thermawall 2500 Series Panels are constructed with polyurethane - a "THERMOSET" insulation (Non-Melting) that meets the requirements specified in most building codes. The panel production process is by the continuous-in-line method, fully computerized in a controlled environment with the most advanced state of the art equipment to ensure uniform quality and consistency in every panel.

Insulation - Thermawall 2500 Series Panels with foamed-in-place polyurethane insulation are offered in thicknesses of 2", 3", 4", 5" & 6", providing insulation values of R-16 to R-47.

Facings - Thermawall 2500 Series Panels have standard 26 gauge facings of smooth or stucco embossed galvanized steel to ASTM A653 G-90 designation. Base steel shall be structural quality to minimum Grade "A" 33,000 PSI, conforming to ASTM A924. Optional panel facings of galvalume, aluminum or stainless steel are available on request.

Coating Systems - Standard Panel finishes are imperial white siliconized polyester (Dept. of Agriculture recognized) with a total dry film thickness of 1.0 Mil including 0.2 Mil primer. Optional finishes include Kynar PVF; plasticol and polyester coatings in a range of stock and special order colors.

Panel Design - Thermawall 2500 Series Panel incorporates a joint design of molded core insulation in a tongue and groove shape - in addition to the interlocking metal sheet edge profile that connects and seals each panel. The Aesthetically Pleasing "SHADOW LINE" face profile lightly accents and stiffens the face sheets with a 3/64" deep, vertical striated groove pattern. Panel coverage is standard at 42" width (3.5 ft.).