<%@ page language="java" contentType="text/html" %> <%@ page import="beans.bProducts" %>
Back to
Walk-In Coolers & Freezers
Index
Remote Step/Walk-In Coolers & Freezers
---
Popular Sizes
Click on model numbers to place order.
Model #
Price
Step-In Coolers
S-...
ALL Sizes Available Upon Request
Call for Pricing
Step-In Freezers
F-...
ALL Sizes Available Upon Request
Call for Pricing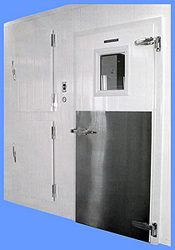 Features
Remote step/walk-in coolers & freezers. No condensate disposal - drain required on conventional systems. No drain required on Penthouse systems. (+3°C / +37.4°F Coolers & -18°C / 0°F Freezers).
All models include floor panels. Each unit complete with 30" solid swing door, dial thermometer, incandescent light fixture, and switch. (Optional window in door shown). Condensing units are top mounted unless specified as saddle mount at an additional cost. Proper ventilation and headroom required for proper operation of condensing unit.
Click here for Walk-in Cooler & Freezer Shelving & Accessories
Terms, Conditions and Warranty Information
Don't see what you need? Many other sizes are available upon request. Give us a call!
---
Remote Walk-In Cooler & Freezer Features
Walk-In Boxes - Please consult us for many other sizes of walk-in coolers, freezers and popular options
Condensing Units and Coils - Available with penthouse system or conventional system. Please specify on ordering.
Shelving - Shelving is optional and available upon request.
Doors - For any other walk-in sizes, doors, and cold storage shelving, please consult us. Doors available: Clark Door manual and electric sliding, Ardco swing glass doors, Thermo swing glass doors, Chase/Duras and Eliason double action doors, etc.