<%@ page language="java" contentType="text/html" %> <%@ page import="beans.bProducts" %>
Back to
Open Vertical Merchandisers
Index
Vertical Produce Merchandiser
Freshen Up Produce Sales With This High Impact Display!
---
Standard Self-Contained Produce Merchandiser
2 rows of adjustable and sloping 14" shelves with wire binning, 12" sloping mirror and "blank" or "Produce" lettered Plexiglass exterior lighted sign. Plexi-insert solid ends.
Click on model numbers to place order.
Model #
Length
Depth
Height
HP
Voltage
Weight
Price
SVMP4
51"
32.5"
73"
1/2
115
624 lbs
SVMP6
75"
32.5"
73"
3/4
230/115
635 lbs
SVMP8
99"
32.5"
73"
1
230/115
1140 lbs
SVMP10
122"
32.5"
73"
TBA
230/115
1205 lbs
SVMP12
146"
32.5"
73"
TBA
230/115
1270 lbs
SVMP...
Other Sizes Available Upon Request
Call for Pricing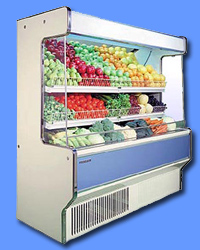 Features
All fresh produce can be maintained in its peak in cool temperatures in this open merchandiser. Produce is displayed to advantage on sloping shelves edged with wire binning - brilliant lighting and mirrors at the back of the unit contribute to a freshly-stocked appearance at all times. An abundance of seasonal fruits and vegetables can be an attractive addition to your store and a drawing card to customers.

All cases come with case ends. Remote cases (optional) come with case ends and TX valve. Automatic hot gas condensate disposal may not be sufficient for all environments. Some applications may require drain or overflow. Fluorescent lighting in superstructure and bottom shelf. Forced air cooling, bottom mount. Standard color: White.
---
Self-Contained Produce Merchandiser Features
Modular Units & Flexibility - The SVMP Produce Merchandiser is available in 4', 6', 8', 10' and 12' lengths and is less than 3' deep, can be placed singly or in a group. Stand alone models have glass panels at the sides; these are removed when units are joined together. Units can be ordered with remote or self-contained cooling systems with automatic defrost and condensate disposal.
Cabinet & Finishes - Standard: White pre-painted galvanized metal in and out. Interior floor galvanized. 2" thick foamed in place high density Polyurethane foamed cabinet, with R-Value of 16 throughout. Bottom mounted cases. Optional casters, night curtains, glass ends and mirrors.
Finish Options: Embossed white, Stainless (flat or embossed), Aluminum (flat or embossed), Standard and custom colors.
Lights - Standard Fluorescent fixtures in Canopy and on Main Shelf deck. Optional lighted sign and lights on all shelves.
Controls & Monitors - Standard: Electronic temperature control with digital readout. Options: Chart Recorder, Power light & Switch, Defrost Indicator, Dial & Digital thermometers, Temperature alarm with Digital readout and dialer output.
Refrigeration System - Self-contained or remote systems. Bottom mounted condensing unit. Forced air evaporator under deck pan with top air flow system. Trouble free and accurate Capillary tube system or TX valve system depending on model. Only environmentally friendly refrigerants used. Systems are designed for use in environments, 75° F & 55% Relative Humidity. Systems designed for holding pre-chilled product. All self-contained systems include energy efficient automatic hot gas condensate disposal. Some environments and all remote applications require direct connection to drain. All systems are 230 volt, direct wire, 3 wire + ground, single phase, 60 cycle, except 1/2HP.